Why isn't my RPlate installing as expected on my car?
The battery-powered RPlate is designed to fit most vehicles without any permanent modifications to the vehicle. Always be sure to use flat-headed screws when attaching the mounting bracket. This will ensure that the RPlate will rest flat against the mounting bracket when you attach it later. We provide a variety of sizes of flat-headed screws (in Bag A) that should fit into the existing license plate holes of most vehicles, but if you need a different size of screw to fit the existing plate mounting holes on your vehicle- they need to be flat-head screws.
Once the mounting bracket has been secured, the RPlate should easily hang from the fitted tabs at the top of the bracket. Be sure to use the small black screws from Bag B to attach the RPlate to the bottom of the mounting bracket (see circled bracket tabs below, where you will insert the Bag B screws). Both of these screws need to be installed securely, or the RPlate may rattle or loosen during driving which may cause a "Plate Detached" message to appear on the RPlate, and a warning in the app.


But...why don't my small black screws fit?
They do, we promise!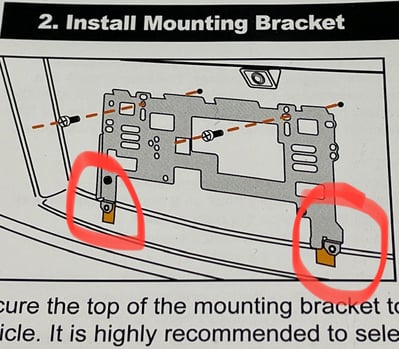 If you get to the final step of installation and find that the provided screws won't firmly screw into the mounting bracket through the holes in the lower corners of the RPlate, it is possible that the lower aluminum tabs of the mounting plate (they stick outward from the rest of the bracket, see photo) may have bent inward during your installation.
If this is the case, the screws may not be inserted at the correct angle. If the screws aren't fastening securely, gently lift the RPlate off of the mounting bracket, and try pulling back firmly on the lower tabs of the mounting plate, gently bending the metal if needed, so that it is at the same angle as the rest of the bracket and sits flush against the back of the RPlate, this should ensure that the screws are guided into the bracket at the correct angle. The screws should now tighten as expected. And as always, please feel free to reach out if you still need some help. We'll be here!