After you have placed your order, a confirmation email similar to the one below will be sent from sales@reviver.com to the email address that you used during checkout.
You should be able to find it in your email inbox by searching for the words: order confirmation, reviver, or rplate. If you have an overly-active spam filter, your order confirmation email might end up in your spam folder — so be sure to check there too!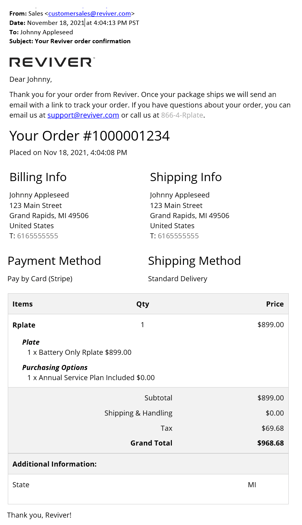 The confirmation email holds information about your order, including your:
Order ID

Shipping details

Billing details

Any tax and/or shipping paid, and

The total price of your order
This email serves as your receipt, so please keep it stored safely for your records.
Once your RPlate ships and is in transit, we will send you a follow-up email with a link to track your order. Please note that there may be some delay between when your order is submitted and the time you receive your order confirmation email.
If you have questions about your order, you can email us.